Systematic Map

Open Access
How have carbon stocks in central and southern Africa's miombo woodlands changed over the last 50 years? A systematic map of the evidence
Environmental Evidence
2018
7:16
Received: 1 June 2017
Accepted: 12 June 2018
Published: 10 July 2018
Abstract
Background
Miombo woodlands cover ≈ 2.7 million km2 of central and southern Africa between dry (650 mm mean annual rainfall) and moist miombo (1400 mm) and are currently threatened by land use and land cover changes that have intensified over the last 50 years. Despite the miombo's global significance for carbon (C) storage and sequestration, there has been no regional synthesis that maps carbon stocks and changes in the woodlands. This information is crucial to inform further research for the development of appropriate policies and management strategies to maintain and increase C stocks and sequestration capacity, for conservation and sustainable management. We assembled a systematic map to determine what evidence exists for (1) changes in carbon stocks in miombo woodlands over the period 1960–2015; (2) differences in carbon density in miombo with different conservation status; (3) trends in carbon stock recovery following human disturbance; and (4) fire management impacts on carbon stocks and dynamics.
Methods
We screened 11,565 records from bibliographic databases and grey literature sources following an a priori research protocol. For inclusion, each study had to demonstrate the presence of miombo-typical species (Brachystegia, Julbernardia and Isoberlinia) and data on above- or below-ground carbon stocks or plant biomass.
Results
A total of 54 articles met the inclusion criteria: 48 quantitative and eight qualitative (two of which included quantitative and qualitative) studies. The majority of studies included in the final analyses are largely quantitative in nature and trace temporal changes in biomass and carbon in the miombo woodlands. Studies reported a wide range (1.3–95.7 Mg ha−1) of above-ground carbon in old-growth miombo woodland. Variation between years and rainfall zones and across conservation area types was large.
Conclusions
An insufficient number of robust studies that met our inclusion criteria from across the miombo region did not allow us to accurately pool carbon stocks and trends in miombo old growth. Thus, we could not address the four questions originally posed in our protocol. We suggest that future studies in miombo woodlands take longer term observational approaches with more systematic, permanent sampling designs, and we identify questions that would further warrant systematic reviews, related to differences in C level recovery after disturbance in fallow and post-clearing re-growth, and the role of controlled fire management.
Keywords
BiomassBrachystegiaCarbon stocksConservation area statusFire managementIsoberliniaJulbernardiaOld-growthRe-growthSoil organic matter
Background
Global atmospheric concentration of carbon dioxide (CO2) is on the rise. Changes in land use have contributed about 136 (± 55) Gt C or about 25% of total anthropogenic emissions of CO2 to the atmosphere over the past 145 years [1, 2]. The importance of CO2 to climate change has sparked much research on the global carbon cycle, with particular attention on carbon stocks in the main terrestrial compartments of ecosystems, mainly soils and plant biomass [3–5].
Miombo is seasonally dry deciduous woodland dominated by trees of the genera Brachystegia, Julbernardia and Isoberlinia and is the largest vegetation formation in central, eastern and southern Africa. This woodland type covers an estimated 2.7 million km2 across seven countries (Angola, Democratic Republic of Congo (DRC), Malawi, Mozambique, Tanzania, Zambia and Zimbabwe) and consists of both dry (650 mm mean annual rainfall) and moist miombo (1400 mm mean annual rainfall) woodlands [6, 7]. The region, also sometimes referred to as the miombo ecoregion [8], has a unimodal rainfall pattern with distinct and prolonged dry seasons that last from April to October/November and an edaphic environment of typically leached, shallow and impoverished soils [9]. It is the combination of these environmental factors, together with fire, that defines the limits of the miombo ecoregion from adjacent vegetation types.
Although the miombo region has been researched from the 1960s (see [10–17] among others), miombo woodlands are poorly documented and understood compared with other world biomes [18] and have only been recently recognised as a key ecosystem, for both their biodiversity values and ecosystem services (see [9, 19, 20]). The region is important for the production of valuable hardwood timber and supports the economic livelihood of millions of people [7, 15, 21, 22]. Miombo woodland is a socio-ecological system that has been maintained by humans through a long history of harvesting, cultivation and frequent dry season fires over more than 55,000 years [17, 23–25]. However, there are indications that the last 50 years have witnessed an intensification of these land use activities driven by increasing human and livestock populations, as well as the human-induced concentration of wildlife herbivores into small conservation areas [26–29]. In addition, colonial land tenure policies coupled with a post-colonial export-oriented focus have disenfranchised local communities and left them dependent on subsistence agriculture and the exploitation of forest resources [30–33].
Lately, a number of national and regional land-use policies have done little to change this negative history. Regional policy frameworks such as the Southern African Development Community (SADC) Protocol on Forestry [34], SADC Forestry Strategy (2010) [35], and Common Market for Eastern and Southern Africa (COMESA) programme, provided policy models on forestry and climate change that member countries could adopt and further develop [36]. These regional initiatives drew from Rio Earth Summit (United Nations Conference on Environment and Development (UNCED), Rio de Janeiro, June 1992) whose declaration focused on the need for nation states to create policy environments conducive to rural livelihoods. As a result, since the 1990s miombo states have pushed participatory land use programs in many woodland areas. Although these policy initiatives aimed to conserve natural resource and woodland use, many have remained largely ineffective [37]. This is for two reasons: first, because many community programmes remain underfunded and centrally driven; and second, because these initiatives have not comprehensively addressed issues pertaining to woodland access and ownership at the local level, which indirectly encourages more agricultural expansion in miombo [37, 38]. The private sector has also played a role in exploiting miombo areas through massive investments in agriculture. This has opened up more lands for crops such as tobacco, and in some instances, triggered land grabs from local woodland users [37, 39]. The combined effects from state and private land use policies have thus adversely affected miombo woodland stocks [38, 40–43].
Because seasonally dry tropical woodlands cover 40% of the tropical forest area and contain considerable carbon stocks [44, 45], deforestation and degradation of this biome has global significance [46]. The carbon stored in the above-ground living biomass of trees is a large pool directly impacted by deforestation and forest degradation [4, 47], while soil carbon represents another important carbon sink. Most soil carbon is derived from roots rather than shoots and leaf litter [48]. Plant root systems are therefore a major carbon sink and influence processes such as soil erosion and carbon cycling [49, 50]. Like many other seasonally dry forest and woodland species, miombo trees have extensive root systems that facilitate regeneration after harvesting [51, 52]. The availability of stump coppices, root suckers and suppressed saplings in the herb layer at the time of clearing enables these woodlands to recover rapidly, depending on fire and the intensity of subsequent land use (e.g. cultivation). Many studies have shown that miombo woodlands can recover rapidly from natural and anthropogenic disturbances [7, 12, 51–60].
Miombo woodlands now comprise a variety of land covers that range from woodlands composed of tall, almost closed-canopy stands, to areas with little tree cover due to clearing for cultivation, charcoal production [59], or mining and infrastructure development [22, 61]. Although the original extent of the woodlands is unknown, we do know that climate change has affected the spatial extent of miombo areas for some time [62–64]. For example, pollen studies show a more southerly presence of the Brachystegia pollen in 1–4 kyr BP sediments from near Naboomspruit and Pretoria in South Africa—areas that are well beyond the present southern limit of the genus [65]. Multiple land pressures on miombo continue today as many areas across southern Africa have rising populations and greater demands for arable land. These variations in land cover and human interference influence how much biomass and carbon the woodlands can hold, and indicate a clear need to study these shifting land dynamics. In spite of the global significance miombo woodlands may have for carbon storage and sequestration, current knowledge of their contribution to global pools is limited [66], and there has been no regional synthesis of carbon stocks and changes in miombo systems to inform policy and management strategies. This map seeks to address this gap by assembling an evidence base of research, and highlighting evidence gaps, which can contribute to agenda-setting for areas of further research which seek to understand the changing land dynamics in miombo woodlands.
Objective of the review
An a priori systematic review protocol [67] describes our objectives and methods in detail. A summary is presented here, and highlights amendments that we made when developing the systematic map.
The original objective of the systematic review, detailed in the protocol, was to assess the impact of land use and land cover change on carbon stocks in miombo woodlands since the 1950s [
67
]. However, after assessing the available data, we found many historical studies lacked measurements of carbon or biomass, and often that studies did not clearly describe the associated land use cover change, practice, or related land use policies. As such, it became necessary and important to survey the quantity and quality of evidence on land use practices and land use policy in the miombo with a systematic mapping approach. Consequently, we reformulated the review's original questions to link land use practice and policy to land cover change and carbon stocks in miombo areas over the last 50 years. We used the following questions to guide our mapping of studies:
(1)

What evidence exists for changes in carbon stocks in miombo woodlands over the period 1960–2015?

(2)

What evidence exists for differences in carbon density in miombo with different conservation status?

(3)

What evidence exists of trends in carbon stock recovery following human disturbance?

(4)

What evidence exists of fire management impacts on carbon stocks and dynamics?
To answer these questions we classified miombo areas by their legally designated protection status based on the conservation categories of the International Union for Conservation of Nature (IUCN).1 These include: national parks (NP), forest reserves (FR), game management areas (GMAs) and open areas (OA). In miombo countries, many protected forestry and wildlife areas fall under NPs and FRs, with GMAs also supporting NPs [68]. Forest reserves are split into national and local FRs, and include botanical gardens and sanctuaries. National wildlife and public forestry institutions jointly manage local FRs and GMAs in conjunction with local leadership councils (e.g. chiefs). Under the IUCN conservation categories, OAs have no conventional protection status; GMAs fall in the IUCN conservation area category VI (resource reserve) in which only classified fauna is protected; GMAs and FRs (local and national) fall in the IUCN conservation area category VIII (multiple use management area or managed resource area) which, depending on the establishment objective, may be protected from human activities such as settlements or where harvesting is legally permissible; and NPs fall in the IUCN conservation area category II or IV (nature conservation reserve or managed nature reserve or wildlife sanctuary) in which legal protection bars anthropogenic ecosystem disturbances [69].
While these IUCN categories have been followed in miombo countries, they often act as functional designations for national government forestry policies and vary in how well their protection status is upheld. Wildlife parks, for example, have received much more attention (in terms of restricted access as they fall under NPs) compared to FRs, which is why some authors described FRs as reservations for commercial timber rather than protected forests [70]. Lately, because of growing social and political pressures for access to land and other natural resources, NPs have also suffered from habitat loss and fragmentation, resulting in unprecedented threats to woody cover and wildlife [71]. Similarly, GMAs and local FRs have been affected by agricultural expansion and greater demands for natural resources. In Zambia, for example, these areas are contested, and over time many protected areas have been degazetted and given away to settlers [72, 73].
We then assessed the best available evidence to understand the impacts of major land use activities (which include fire, herbivory, wood harvesting, woodland conversion and cultivation) on above and below-ground carbon stocks in miombo woodlands. Figure
1
shows how we originally conceptualised the drivers and impacts of land use change on above- and below-ground carbon stocks in miombo woodlands [
67
].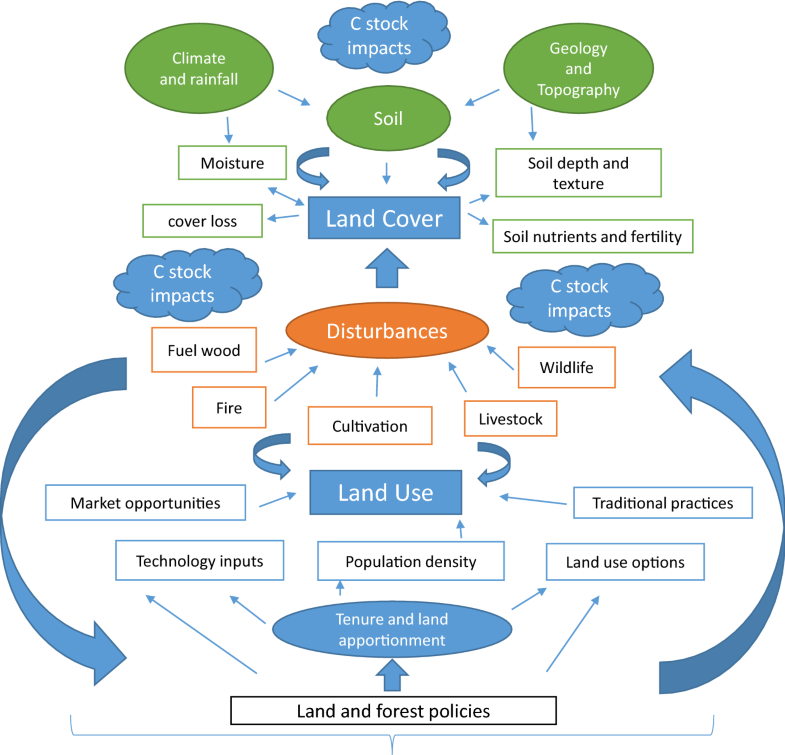 Conclusions
Implications for research in the miombo and future systematic review topics
The systematic map reveals an inadequate evidence base to address the four questions originally posed in our protocol. An insufficient number of robust studies was found that meet our inclusion criteria from across the miombo region. There is a clear knowledge gap for Angola, northern Mozambique and the Democratic Republic of Congo, at least from the wide sources we consulted, and while we acknowledge that this may due in large part to language bias in the mainstream academic literature, it points to a need to focus on this region in future primary research. There was more literature on dry miombo sites compared with moist sites, and the latter may also be a useful focus for future research. The relative dearth of qualitative studies highlights a potential source of future work to develop policy based on community engagement in the miombo region.
Much further research is needed to understand C stocks and their trends in miombo old-growth woodland, because pooling the data is not sufficiently informative for localised management suggestions, given the variability (i.e., rainfall, aridity, soil depth and stand age) of miombo across the region. Understanding miombo biomass stocks, losses and gains and carbon sequestration in light of the variability across the regional gradients is crucial for future studies. It would require better assessment of both above- and belowground biomass across the region in a systematic way, accounting for spatial, climatic and land use differences.
In light of these findings, we suggest that future studies in miombo woodlands take longer term observational approaches with systematic, permanent sampling designs (versus chronosequence study designs). We also identify a few important phenomena pertinent to miombo woodland land use policy and management that would benefit from systematic review with meta analysis:
Do carbon stocks in miombo woodlands return to previous levels after disturbance?

What are the differences between carbon stocks in fallow re-growth sites and those in post-clearing re-growth sites, which appear to take longer to re-establish but reach higher levels?

Is regrowth after agricultural fallowing slower than after clearing and are conservation areas adequately protecting miombo woodlands?

Is controlled fire management, especially with early burning, a favourable management strategy for miombo woodlands to sequester and store carbon?
Footnotes
1
Many of the protected areas (e.g., forestry reserves) in miombo countries have not been widely studied. Burgess et al. [70] have observed the link between these reserves and the global reservation system (as outlined in IUCN protected area categories) is weak especially since they seem to be nationally driven rather than globally.
Abbreviations
AGB:

above-ground biomass
AIC:

Akaike's information criterion
BGB:

below-ground biomass
C:

carbon
CO2 :

carbon dioxide
COMESA:

Common Market for Eastern and Southern Africa
FR:

forest reserve
FRG:

fallow re-growth (woodland regenerating at a site/plot following abandonment of crop cultivation)
GtC:

gigatonnes of carbon
GMA:

game management areas
IUCN:

International Union for Conservation of Nature
MCAI:

mean c annual increment
Mg ha−1 :

mega grams per hectare
NP:

national parks
NTFPs:

non-timber forest products
OA:

open areas
PCRG:

post-clearing re-growth miombo (after cultivation)
REDD+:

Reduced Emissions from Deforestation and forest Degradation plus enhancement of forest stocks
R/S:

root:shoot
SADC:

Southern African Development Community
SBD:

soil bulk density
SOM:

soil organic matter
Declarations
Authors' contributions
Emmanuel Chidumayo (EC) carried out quantitative data analysis and drafted the manuscript, with additional inputs from JC, who coordinated the work, and IG, CM and GP. JC, DG, KYM, KBM, IG, RN, GK, CM and RN screened studies; and EC, JC, DG, KYM, KBM appraised the studies and extracted data. All authors read and approved the manuscript.
Acknowledgements
EC assisted CIFOR Zambia office in Lusaka in undertaking this study.
Competing interests
The authors declare that they have no competing interests.
Availability of data and materials
All data generated or analysed during this study are included in this published article (and Additional files 1, 2, 3, 4) and most are publicly accessible. Some data that support the findings of this study are from older studies and are not publicly available. Other information and data needed are available from the corresponding author upon reasonable request.
Consent for publication
Not applicable.
Ethics approval and consent to participate
Not applicable.
Funding
This research review was financed from the United Kingdom's Department for International Development (DfiD) through CIFOR's Evidence-Based Forestry Initiative. CM gratefully acknowledges funding support from the CGIAR Research Program on Forests, Trees and Agroforestry (CRP-FTA) with financial support from the donors contributing to the CGIAR Fund, from the Norwegian Agency for Development Cooperation (Norad), and from the International Climate Initiative (IKI) of the German Federal Ministry for the Environment, Nature Conservation, Building and Nuclear Safety (BMUB).
Publisher's Note
Springer Nature remains neutral with regard to jurisdictional claims in published maps and institutional affiliations.
Open AccessThis article is distributed under the terms of the Creative Commons Attribution 4.0 International License (http://creativecommons.org/licenses/by/4.0/), which permits unrestricted use, distribution, and reproduction in any medium, provided you give appropriate credit to the original author(s) and the source, provide a link to the Creative Commons license, and indicate if changes were made. The Creative Commons Public Domain Dedication waiver (http://creativecommons.org/publicdomain/zero/1.0/) applies to the data made available in this article, unless otherwise stated.
Authors' Affiliations
(1)
Center for International Forestry Research (CIFOR), Lusaka, Zambia
(2)
Center for International Forestry Research (CIFOR), Bogor, Indonesia
(3)
Independent Consultant, Lusaka, Zambia
(4)
Institute of Environmental Studies, University of Zimbabwe, Harare, Zimbabwe
(5)
Oxford Long-term Ecology Lab, Department of Zoology, University of Oxford, Oxford, UK
(6)
Department of Forest Engineering, Faculty of Agronomy and Forest Engineering, Eduardo Mondlane University, Maputo, Mozambique
(7)
Department of Plant and Environmental Sciences, School of Natural Resources, Copperbelt University, Kitwe, Zambia