Systematic review
Open Access
Human well-being impacts of terrestrial protected areas
Environmental Evidence
The official journal of the Collaboration for Environmental Evidence
2013
2:19
Received: 9 January 2013
Accepted: 17 July 2013
Published: 28 October 2013
Abstract
Background
Establishing Protected Areas (PAs) is among the most common conservation interventions. Protecting areas from the threats posed by human activity will by definition inhibit some human actions. However, adverse impacts could be balanced by maintaining ecosystem services or introducing new livelihood options. Consequently there is an ongoing debate on whether the net impact of PAs on human well-being at local or regional scales is positive or negative. We report here on a systematic review of evidence for impacts on human well-being arising from the establishment and maintenance of terrestrial PAs.
Methods
Following an a priori protocol, systematic searches were conducted for evidence of impacts of PAs post 1992. After article title screening, the review was divided into two separate processes; a qualitative synthesis of explanations and meaning of impact and a review of quantitative evidence of impact. Abstracts and full texts were assessed using inclusion criteria and conceptual models of potential impacts. Relevant studies were critically appraised and data extracted and sorted according to type of impact reported. No quantitative synthesis was possible with the evidence available. Two narrative syntheses were produced and their outputs compared in a metasynthesis.
Results
The qualitative evidence review mapped 306 articles and synthesised 34 that were scored as high quality. The quantitative evidence review critically appraised 79 studies and included 14 of low/medium susceptibility to bias. The meta-synthesis reveals that a range of factors can lead to reports of positive and negative impacts of PA establishment, and therefore might enable hypothesis generation regarding cause and effect relationships, but resulting hypotheses cannot be tested with the current available evidence.
Conclusions
The evidence base provides a range of possible pathways of impact, both positive and negative, of PAs on human well-being but provides very little support for decision making on how to maximise positive impacts. The nature of the research reported to date forms a diverse and fragmented body of evidence unsuitable for the purpose of informing policy formation on how to achieve win-win outcomes for biodiversity and human well-being. To better assess the impacts of PAs on human well-being we make recommendations for improving research study design and reporting.
Keywords
National ParkReserveCommunityGovernanceConservationPovertyDevelopmentBiodiversitySystematic review
Background
The concept and practice of protecting areas for the purposes of conservation has been at the heart of conservation policy since its inception in the 19th Century. The idea that intervening to protect areas from human activity is an effective way of conserving species and habitats and preventing habitat loss and species extinction is arguably as pervasive today as it was when the first protected areas (PAs) were established (MEA 2005). The central place of PAs in the conservation movement has been reflected in the increase in both the number of PAs and the area of land and sea placed under protection. The proportion of total area of land under some form of protection has now reached nearly 13% [1, 2].
The process of protecting areas from the threats posed by human activity will by definition inhibit some human actions and therefore has the potential to negatively impact human well-being. There are many historical records to suggest that few PAs were uninhabited wildernesses before designation, and the early history of PAs, for example in the USA and East Africa, is of forced eviction and persecution of local communities by colonial powers [3]. This scenario has continued in some countries with, in some cases, the colonial powers being replaced by multinational corporations or international conservation Non-Governmental Organisations (NGOs) [4]. The problem of negative impacts of PAs on human well-being gained official recognition in the Convention on Biological Diversity (CBD) arising from the Rio Summit in 1992. The principle that PAs should do no harm to local people was only established at the World's Park Congress in 2003 (at which, the Durban Accord was proclaimed). Prior to 1992, the establishment plans of PAs did not normally have objectives concerning human well-being.
However, negative impacts could be balanced by positive impacts as PAs may also improve human well-being and alleviate poverty [5]. By preventing conversion of natural habitats, PAs may improve the provision of some valued ecosystem services to some users. For example, downstream farmers may benefit from conservation of forested watersheds [6]. PAs may also directly introduce new livelihood options into a region through the expansion of tourism or research, or improvements to infrastructure may indirectly result in economic development.
Recently there has been considerable debate on whether, apart from their effects on global environmental benefits, the net impact of PAs on human well-being at local or regional scales are positive or negative [7–10]. There is concern that continuing with a policy of PA establishment could conflict with goals of poverty alleviation [11]. The CBD Aichi targets include a target of 17% of terrestrial and inland areas covered by well-managed PAs by 2020. Future policy decisions on support for PA establishment and future management need to be informed by the best available evidence on their human well-being impacts. That there have been and continue to be, some major negative impacts on local communities caused by the establishment of some protected areas, is not in dispute. However, of particular interest to policy makers is the balance of positive and negative impacts on human livelihoods that arise from the PA establishment, the distribution of these benefits and costs, and the factors that might cause this to vary.
We report here on the conduct and outcome of a systematic review of evidence for impacts on human well-being arising from the establishment and maintenance of terrestrial PAs. Establishing the state of the evidence base through systematic review will inform decision making concerning future investment in PAs and future research needs. The review question was formulated by the Scientific and Technical Advisory Panel (STAP) of the Global Environment Facility (GEF).
At the outset of the review the following broad categories were posed by STAP as a starting point for a conceptual model concerning the potential impact of PA establishment (or change in PA status) on people and/or the communities of which they are part. These categories and associated questions were used to guide development of specific evidence inclusion criteria (categories were subsequently modified based on an in-depth understanding of the literature in order to code and present the available evidence, see methods).
Livelihood strategies
Did the establishment or change in status of the PA or management activities within the PA generate or decrease specific production opportunities (e.g. more demand for labour, herding activities and associated products no longer viable, new demand for particular food, handicraft, services or products etc.)? Did the PA influence (i.e. increase or decrease) migration generally, and of particular social groups? Has this differentially impacted (positively or negatively) the most vulnerable groups in local communities (e.g. women, children, poorest sectors of the community)?
Social capital
Did the establishment and management of the PA affect the development of social networks? Did it positively or negatively impact education and capacity building, e.g. by generating or decreasing opportunities for formal and/or informal education? Has PA establishment differentially affected more vulnerable groups (e.g. women, children, poorest sectors within local communities) in a positive or negative way?
Empowerment
Did the PA empower or disempower local communities and any particular social groups? Were new organizations/institutional arrangements that represent the interests of communities and any particular social groups created or existing ones undermined? Have these organizations developed activities aimed at improving their livelihoods (e.g., legislation to support local livelihoods, land tenure, co-management of local resources, other social benefits) or have existing activities been negatively affected?
Human rights
Whilst recognising that the scope of human rights is very broad, in this review we focus on the following question; were the rights of any local stakeholders, affected either positively or negatively by the PA (considering, e.g., rights to education, adequate access to food, clothing, health, choices)?
Access to ecosystem goods and services and natural resources essential for well-being
Did the PA have any positive or negative impact on access to ecosystem services and natural resources? For example were there changes in the cost (in terms of money, level of effort, or time) in obtaining firewood, clean water, and other resources/services? Was access to culturally significant places (e.g. sacred grounds) affected? Did self-sufficiency in food (by locally cultivating, hunting, raising animals or gathering) or access to medicinal plants change? Has this been a consequence of the direct impact of the PA through legal prohibition of access or indirect as a consequence of changes in infrastructure and/or institutions? Have any of these positive or negative impacts been disproportionably high or low on particular sectors of society?
Measuring impacts needs to take into account that terrestrial PAs are varied in their status, management and objectives. For example, many protected areas will have been established with a primary aim of landscape or biodiversity conservation, possibly at a time when potential impacts on local human well-being were not widely considered. Types of PAs have been categorised by the World Commission on Protected Areas (WCPA) of the International Union for the Conservation of Nature (IUCN) and are used to classify entries in the World Database of Protected Areas (http://www.protectedplanet.net/). The PA categories reflect the range of management objectives of different PAs, from strict protection of nature or wilderness, conservation of ecosystems, protection of national monuments or management of important habitat or species (categories I-IV) through to objectives which place human use of the landscape much more centrally (categories V-VI). Progressively, since 1992 the requirement of PAs to 'Deliver benefits to resident and local communities consistent with the other objectives of management' has become a common objective [12] with the categorisation representing a gradation of increasing human intervention.
In this review we also recognise that the impacts of PAs on human well-being are likely to be highly context dependent and vary over the lifetime of the PA. For example, initial establishment may have significant and immediate negative impacts on the communities within the PA but in the longer term there may be positive impacts on well-being. Similarly, spatial context of the PA and communities within and around it will influence impact. Some communities will be located in a PA, some in buffer zones around the edge and others more distant. Other PAs may be close by and exert an influence. Presence or absence of infrastructure may influence the spatial scale over which impacts occur. Impacts that are negative 'locally' may have to be balanced against impacts that are positive but experienced more widely or more remotely.
Given the diversity of PAs, contexts of establishment and of communities affected, this review did not aim to estimate a mean effect of PA establishment on local communities but to critically appraise the range of effects that have been reported. The nature and scope of the question posed in this review (including as it does issues of empowerment and social capital) suggested to the Stakeholders and the Review Team that a combination of quantitative and qualitative evidence might provide the most reliable base with which to inform future decision making.
Objective of the review
The primary research question was:
What are the human well-being impacts of terrestrial protected areas?
We aimed to synthesise the empirical evidence of positive, negative or neutral impacts of PAs on human well-being at the local to regional scales, with emphasis on local communities and contemplating as broad a definition of well-being as possible (see categories to be considered below).
We were also interested in two secondary questions;
1.

How are costs and benefits distributed among and within local communities living inside and in the buffer zones of PAs (by socio-economic status, gender, age etc.)? 2. How do costs and benefits vary with governance, resource tenure arrangements, and site characteristics? As the aim is to assess the human well-being impacts of PAs in their current form and capture lessons for future interventions, relevant evidence may be provided by studies that generate hypotheses about impact, as well as studies that test hypotheses about impact.
Results
Review descriptive statistics
The main literature search was conducted between 11 October and 14 November 2011 with an update carried out in May 2013.
The main search returned 13,248 articles (following removal of duplicate and marine-oriented articles) and title-level screening left a total of 1,710 articles. The search update returned 3,122 articles (following removal of duplicates) and title-level screening left a total of 204 additional articles. From this point forwards, screening at abstract was independent for the two review sections.
Qualitative synthesis of explanations and meaning of impact
Narrative synthesis of quantitative evidence
In this section we provide a narrative overview of all included studies providing quantitative data on impacts. The studies are divided into six subsections; produced iteratively based on the outcomes reported in the accepted literature (see typology in Figure
12
). We do not claim that these divisions are definitive or optimal but they do provide a pragmatic breakdown of a complex body of evidence. A summary of data presented in the included studies is provided as Additional file
7
. A more detailed set of data extraction tables is available as supplementary material. Of the 79 studies included in this synthesis 63 were categorized as having 'high', 11 'medium' and 3 'low' susceptibility to bias. Additional file
10
: Table S1 displays the 14 studies and 33 outcome measures that were categorised as having low and medium susceptibility to bias. Additional file
11
provides detail of critical appraisal and the basis for assigning susceptibility to bias for all 79 studies. In the following text we concentrate on results reported in these 14 studies. Here where we discuss studies' 'susceptibility to bias' we refer to their categorisation resulting from our critical appraisal. In some instances we also identify specific types of bias (defined in Table
5
, below) and in others we refer to shortcomings of the study design and implementation that implicitly increase the studies' susceptibility to bias.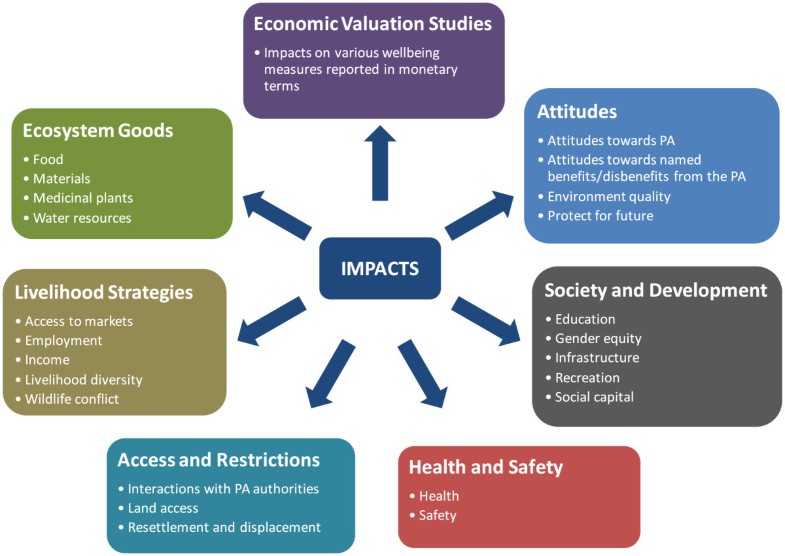 Table 5
Definitions of bias mentioned in the narrative synthesis
| | |
| --- | --- |
| Recall bias | Imperfect recollection of past events by respondents. Generally worsened by longer periods of recall |
| Social desirability bias | Tendency to respond to questioning in such as way as to be viewed favourably by others |
| Questioning bias | Questioner leading respondents to reply to questioning in a certain direction |
| Neyman bias | Arises from a time lag between exposure and sampling such that undetected drop-out of participants may occur before the study begins. |
| Attrition bias | A skew in results where participants are lost between measurements at two time points (potentially as a result of the exposure) during the study |
| Optimism bias | A belief by a respondent that they are less likely to experience a negative event relative to other respondents, or over-optimism on the part of analysts or interviewers, about the effects of a project. |
| Hypothetical bias | Failure of respondents to consider the true budget constraints in responding to financial questioning |
| Strategic bias | Tendency for respondents to alter their answers in an attempt to influence an event |
It is important to note that since the majority of studies were identified as being highly susceptible to bias, the results of these studies are not considered further, either individually or in general. These studies are unreliable both alone and in concert. Because this group of potentially biased studies is unreliable, we cannot summarise their findings any more than we can discuss individual results. However, for completeness we also consider the diversity of outcomes reported by all studies. Furthermore, we avoid vote-counting, where the sum of all negative, positive and neutral study results are calculated. Vote-counting is unreliable because it assumes that a significant finding is evidence that an effect is present and a non-significant finding is evidence that an effect is absent. This former statement is true, but the latter is not (see Borenstein et al. [21] for further details of vote-counting).
Meta-synthesis of qualitative and quantitative evidence
In attempting to bring together the findings of the qualitative and quantitative reviews it is important to reflect on the differences in their philosophies. The qualitative synthesis is essentially formative and attempts to form a picture of how PAs are perceived to impact on human well-being. As such it can form a template for empirical investigation and hypothesis testing. The synthesis of quantitative evidence is more summative and attempts to test hypotheses of impact. In consequence we should not expect the meta-synthesis to be a simple matching of similar studies or outcomes. In this section we summarise the findings of the qualitative synthesis and ask whether the quantitative evidence of impacts can inform the questions raised by these findings or whether it suggests something different.
Governance
The qualitative synthesis reveals a number of factors that can lead to negative views and impacts of PA establishment: lack of clarity in regulations and boundaries; discrepancies between state rules and local institutions; forced migration, inadequate or non-existent compensation; and poor communication between communities and authorities and government indifference to cultural and social diversities. Negative views on impact of management can arise from poor relationships between residents and park officials. Views on how to lessen negative impacts or achieve positive impacts include: rules that are locally adapted or based on traditional rules; greater clarity over rights and duties; planning focussed on community livelihoods as well as the park; appropriate capacity building; and empowerment through the process of acquiring land titles and setting boundaries. The existence of these views enables hypotheses to be generated on how to achieve change in impact. The synthesis of quantitative measures of impact shows that these hypotheses are yet to be tested. What is absent from the evidence base is a quantitative comparison of costs and benefits to local people of different forms of PA governance.
Well-being
Environmental (natural) capital
The qualitative synthesis presents a range of positive and negative attitudes among local populations towards PAs. Alongside an appreciation and desire to protect the environment were concerns about reliance on those same areas to maintain economic livelihoods. Although the qualitative literature provides evidence of difference views, quantitative evidence to estimate the scale and reach of those views was not extractable since all but one study were highly susceptible to bias,
Access to land
The qualitative synthesis revealed two very different scenarios in terms of access to land. The first is resentment at loss of access and the second is benefit from acquisition and value of land on the PA margin. All quantitative studies of impact of PAs on land access and restrictions were highly susceptible to bias and so the current evidence does not allow the magnitude of these scenarios to be assessed.
Resource use
A range of positive and negative views were found concerning PAs as a source of natural resources and ecosystem goods. In the synthesis of quantitative evidence of impact only two studies were not highly susceptible to bias, showing that meat and fish consumption was greater in proximity to a PA and that timber and fuelwood benefits were more frequently appreciated nearer another PA.
Economic capital
Views expressed on impacts of PAs on economic capital are generally negative, with the exception of some views on the benefits of ecotourism. In contrast the quantitative evidence of impact from three studies on livelihood strategies was neutral to positive in terms of poverty reduction. In particular, there were concerns in Sweden amongst foresters about sustaining employment and amongst politicians about sustaining tax revenue in the presence of regulations. However, these concerns were not upheld by a quantitative assessment of impact in the same country. All but one of the economic valuation studies suffered from high susceptibility to bias and therefore add limited reliable quantitative evidence to this issue.
Social capital
The qualitative synthesis suggests development associated with PAs can exacerbate ethnic tensions through perceived preferential treatment of some communities. There may be a relationship between existing social capital and ability to adapt to new circumstances. Quantitative evidence of impact on social capital is mixed. There is some evidence of positive impact of land protection on poverty alleviation and on housing and infrastructure but also of increasing incidence of wildlife conflict.
Health
Views expressed on health of local populations are predominantly negative, including exposure to disease, wildlife conflict and women's safety. Quantitative studies of impact of PAs on health and safety are notable by their absence.
Discussion
Historical accounts of establishment of PAs provide evidence that substantial negative impacts on local populations can occur and have occurred. Forced displacement of communities is a recurring theme in the narrative concerning negative impacts of PAs e.g. [4]. This review does not seek to question this historical narrative. Community development and infrastructural improvements in close proximity to PAs has also been documented and suggests that PA establishment can be positive (i.e. win-win solutions for biodiversity and human well-being are possible). Establishment of PAs will inevitably lead to impacts on local, and possibly regional, populations but the challenge is to improve our capacity to predict which factors will influence the balance of positive and negative impacts. In this review we have attempted to provide an assessment and characterization of the range of positive and negative impacts in the period following the Rio Summit and establishment of the CBD. It was not the objective of this review to revisit this history prior to 1992. The review also attempts to collate evidence on the factors that modify impact, either in a positive or negative direction.
Comparison of qualitative and quantitative evidence
Although the quantitative evidence is insufficient to draw conclusions about the scale of either positive or negative impacts of protected areas on well-being, it was possible to synthesise understandings from qualitative studies about how positive and negative changes in well-being can arise from establishing and implementing regulations to protect the natural environment, with or without simultaneous investment in community development.
The qualitative synthesis has identified a number of themes in the ways governance of protected areas affect human populations well-being and how PAs are viewed. Some of these themes, such as the impact of land protection on forestry sector employment in Sweden, are reflected in the impacts assessed in studies considered in the quantitative review. Other themes, however, have not been rigorously assessed in the quantitative literature, for example, novel diseases resulting from changes in lifestyle, increased workload and heat exhaustion due to crop raiding, safety risks felt by women as men worked further afield and as women themselves were drawn out of their homes for new roles.
Reasons for heterogeneity
The identification of variables that influence whether positive or negative impacts will occur would be desirable for supporting decision making on the process of establishment and subsequent management of PAs. Unfortunately the nature of the evidence provides little opportunity to analyse differences in impact among different PAs (see limitations below).
Mode of governance is commonly viewed as a key variable determining impacts of PAs and this is supported by the qualitative synthesis in which many narratives are available on different aspects of governance. However, rigorous tests of governance as an effect modifier are absent. A similar lack of quantitative evidence is apparent for the following questions:
What practices repeatedly lead to negative impacts, and which ones seem to be recurrently improving people's well-being?
Are some of these practices becoming more/less common with time?
Are any costs or benefits associated with particular types of PAs (e.g. size or location)?
Strengths and limitations of the review
This is the first systematic review of which we are aware that attempts to identify and synthesise, in a transparent manner, the findings from international studies of people's views about the impact of protected areas on their lives. To reduce the likelihood of missed studies, sensitive searches of bibliographic databases were supplemented by other methods to seek out less easily found literature such as unpublished reports from topic relevant websites. Studies providing thick descriptive data spanning the different categories of IUCN protected areas and before and after the Durban Accord offered an excellent source for synthesising understanding about how protected areas impact on people's lives.
During the reading and re-reading of individual studies we found that data often encapsulated the complexity of living in or near protected areas, touching on a multiplicity of interrelated themes. Within the limitation of time and resources for this study we have only been able to present these themes fairly superficially without exploring fully all their interconnections.
The disparate, fragmented literature limits our ability to test the comprehensiveness of the search. In reviewing such a broad and interdisciplinary question it has been a significant challenge to test all the possible sources of relevant material; nor is it simple to measure what proportion of the relevant articles we have been able to access with the time and resources available. Limiting our search to English-language articles may be significant.
Diversity of the literature has limited any assessment of extent of publication bias. Whilst we have attempted to minimise publication bias by employing a systematic search strategy, we have no way of testing for publication bias in the literature we obtained. The selective nature of many studies, in terms of the type of impacts investigated, is also a potential source of bias, since researchers may 'cherry-pick' (possibly inadvertently) those impacts most likely to show a particular effect.
Limitations of the evidence base
Although the quality of the studies was sufficient to draw out their findings to explain how different impacts may arise, many of the studies failed to report adequately their methods of data collection and analysis.
There is a potential in any studies looking at the quantitative impact of protected areas that respondents will bias their responses in an effort to influence protected area governance. Some questionnaire-based studies attempted to minimise this strategic bias by clearly stating that interview and questionnaire results would be used solely for research purposes, other studies did not acknowledge this potential bias or attempt to reduce it. Of the 305 outcome measures extracted from 79 included studies, 92 outcome measures (30%) involved 'reported changes'. For these data the comparator is implicit in the respondent's reply; they are reporting a change over time due to the protected area. Whilst these results are relevant (externally valid) to the review in hand, they can be susceptible to significant recall bias and questioning bias (elements of internal validity). Several studies attempted to retrospectively elicit opinions and attitudes towards protected area establishment many years after the event, which is similarly open to substantial sources of bias.
For these reasons, results in the form of reported changes which involve significant recall should be viewed with caution, and studies critiqued in depth for potential sources of bias. We attempted to account for these sources of bias during critical appraisal using our 'susceptibility to bias' scoring system.
Sixty-six of the 79 studies accepted following critical appraisal collected data in the form of self-reported measures. Fifty-six of these articles failed to provide details of the questionnaires given to respondents, and only two articles provided a copy of the survey instrument in full [76, 105]. Without details of the questioning involved in these surveys it is difficult to assess questioning bias.
Variation in all the question elements (PECO; population, exposure, comparator, outcome) and the high degree of specificity in outcome measures identified in this review provides problems for synthesis. In particular, studies based on self-reported measures commonly asked very specific questions that could not then be synthesised along with other similar outcomes. Similarly, a high degree of variability in the choice and design of comparators prevented synthesis. In some studies, the inside-outside comparison was open to many confounding factors that cloud the link between protected area presence and impacts. This highlights the difficulty of balancing minimisation of spillover effects, whereby the comparator population is close enough to feel the effects of the exposure, and control of non-target variables. Whilst some studies accounted for this problem by including confounding variables in statistical models, many others did not. Furthermore, very few studies examined differences in environmental conditions between the comparator and exposure populations.
High susceptibility to bias in most studies limits ability to attribute outcomes/impacts to presence of PAs. Forty-five studies were excluded during critical appraisal due to flaws in experimental design and data analysis, or due to a lack of methodological detail. However, many studies included after the first stage of critical appraisal also failed to account for confounding variables, selected replicates in a non-random manner, and used opportunistic methodology. The most frequently occurring factor that affected the susceptibility to bias score in included studies, however, was a failure to appropriately report their methodology. Significant details such as recall period, response rate, item pool balance and order, sample selection process, sample size, and sample location were not disclosed in a large number of cases. Together, these factors limit the ability to attribute the reported impacts to protected areas.
There is a lack of primary studies estimating impact of PAs on human well-being using direct measurement techniques in a BACI format. In addition to a generally high susceptibility to bias, very few studies employed robust comparators over appropriate time frames in order to maximise evidence linking protected areas to observed human well-being impacts. Only one included study used a full BACI design to account for spatial and temporal confounding variables. Only three studies used direct data collection.
We found a surprisingly small number of studies on health of populations. Only nine studies reported data on human health impacts of protected areas. This is surprising since the majority of articles in this review purport to measure human well-being. Difficulties in ethical approval for human study may account in part for the paucity of health studies.
Review conclusions
Implication for policy/management
The evidence base provides a range of possibilities to inform but little evidence to support decision making on how to maximise positive impacts of PAs on human well-being. The diversity of studies and of outcomes measured, together with the diversity (or lack of clear signal) in the data suggests that impacts of PAs are highly context dependent. However, the evidence base is insufficient to provide any power with which to predict impacts on well-being from a knowledge of their context. It logically follows that there is an insufficient evidence base to identify circumstances/variables/effect modifiers that might lead to greater or lesser impact. At present, the available evidence base is failing to inform policy on the progress (or lack of it) being made, since 1992, toward lessening negative and promoting positive impact of PAs on human well-being.
Implication for research
The nature of the research reported to date forms a diverse and fragmented evidence base that is insufficiently developed to reliably inform future policy decisions (recognising that many included studies did not set out to address the review question). Many studies appear to have been conducted opportunistically and lack baseline measures. There is no evidence of a strategic approach or strategic investment to this field of research beyond individual research group initiatives. If a sufficient evidence base is to be formed then there is a need for concerted programme of research rather than an uncoordinated short term opportunistic approach.
The diversity of outcome measures and the consequent difficulty for synthesis suggests a need for use of standard indicators of human well-being that allow comparison among studies and meaningful synthesis of evidence.
Comparative research needs to progress from PA/no PA to PA type A/PA type B comparisons. Comparisons should be made between potential proximate causes of positive or negative impacts when the ultimate cause is PA establishment/management. This review suggests some of the candidates to be governance models, existing social capital, cultural diversity and poverty index.
It would be helpful to research efforts for funders to find consensus on minimum standards for methodologies, for both qualitative and quantitative evidence, that provide improved quality and thus reliability of data. The large proportion of included studies that suffered high susceptibility to bias is an indicator of such a need and also an indicator that scarce research resources are not being used effectively.
Recommended study design
In order to better assess the impacts of protected areas on human well-being we make the following recommendations for future research study design and reporting;
Methodological detail; Studies must report sufficient details regarding the location of sample sites (in relation to the protected area boundaries in particular), the degree of replication, the data collection tool (e.g. quote questions posed to respondents in questionnaires), the method of sample selection (e.g. random or purposeful), and the times and duration of sampling. This is not an exhaustive list, and sufficient detail must be provided to allow the sampling to be repeated. Where information cannot fit within published articles these details should be provided in supplementary material.
Baseline assessment; Where changes following establishment or change in protected area governance are being investigated, adequate baselines must be assessed. Although this is difficult and requires planning prior to the intervention, full 'before-after-control-intervention' (BACI) study design is vital to account for confounding temporal and spatial confounding factors. By assessing baselines, any differences between intervention and comparator populations can be compared relative to the starting conditions to strengthen the evidence towards causation.
Matched controls
'Control' or 'comparator' populations are vital to enable conclusions to be drawn about impacts in the absence of the intervention. A reliable comparison requires that as many other variables describing the environment are held constant or matched between comparator and intervention populations, allowing only the intervention to change in an ideal situation. In practice this is very difficult (and why baseline assessment is important), and there is often a payoff between maximising similarity and minimising spillover (the overflow of impacts from the intervention into the nearby comparator). Statistical tests can help to confirm similarity across intervention and comparator populations, and descriptive variables can be included in models that test for the significance of the intervention in order to account for differences that might occur.
Replication
Care must be taken to ensure that there is an appropriate trade-off between a study's accuracy and its precision. When combining many studies in a synthesis, more accurate results are preferable to more precise ones. For example, a study that measures daily resource extraction over a year in ten households from one intervention and one comparator village is less likely to reflect the true impact of the intervention than a study that measures daily resource extraction over a month from 12 intervention and 12 comparator villages. This spectrum is not clear-cut, however, and the allocation of resources to pseudoreplication (improving precision) and true replication (improving accuracy) must be considered carefully. Indeed, the scale at which conclusions will be drawn defines what is pseudoreplication and what is true replication, and this definition may be different for the author and the systematic reviewer.
Statistics
Statistics, both in summarising results and analysing patterns, must be used with great care. We recommend that a statistician be consulted during experimental design in order to optimise design for analysis. The use of models that account for changes in non-target variables across temporal and spatial scales are recommended, but tests for differences in confounders between intervention and comparator populations are also appropriate. Where information can be presented in summary statistics (e.g. mean/median and standard deviation/confidence intervals) this will aid future meta-analysis.
Declarations
Acknowledgments
We thank Sandra Diaz and Tom Hammond for their help in administering the progress of this review.
Sources of support
This review was funded by the Scientific and Technical Advisory Panel of the Global Environment Facility.
Authors' Affiliations
(1)
Centre for Evidence-Based Conservation, School of Environment, Natural Resources and Geography, Bangor University, Bangor, UK
(2)
Evidence-informed Policy and Practice Information and Coordinating Centre (EPPI-Centre), Institute of Education, University of London, London, UK
(3)
School of Environment, Natural Resources and Geography, Bangor University, Bangor, UK
Copyright
© Pullin et al.; licensee BioMed Central Ltd. 2013
This article is published under license to BioMed Central Ltd. This is an open access article distributed under the terms of the Creative Commons Attribution License (http://creativecommons.org/licenses/by/2.0), which permits unrestricted use, distribution, and reproduction in any medium, provided the original work is properly cited.